Brittany Lynn Burton (born February 8, 1989) is an American former actress who appeared in Kidsongs: I Can Do It!.
She sing that songs was Look What I Can Do, All Shook Up, C'mon and Swim, Bicycle Built for Two, In the Good Old Summertime, Boogie Woogie Bugle Boy, or The Best Sandcastle.
She had her sister is with Tiffany Burton.
She had her parents is with Bruce Burton and Veda Burton.
Brittany and Veda had the same middle name is Ann.
She had her husband is with Jose Rojas.
She had her son is with Diesel Rojas.
She had her daughter is with Dash Rojas.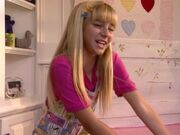 Gallery