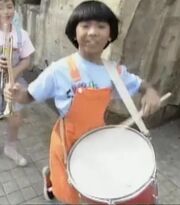 Christian Adam Buenaventura (born April 1, 1982) is a former actor who was in many of the Kidsongs videos through the 1990s: Kidsongs: We Wish You a Merry Christmas, Kidsongs: Play Along Songs, Kidsongs: If We Could Talk to the Animals, The Kidsongs Television Show, Kidsongs: Country Sing-Along, Kidsongs: Boppin' with the Biggles, Kidsongs: My Favorite Songs, Kidsongs: Let's Put on a Show and Kidsongs: Baby Animal Songs.
Christian was one of the hosts in season 1 of The Kidsongs Television Show in 1994 and he was also seen in the first two Mickey's Fun Songs videos with Michelle Montoya, Tiffany Burton, and Shira Roth. He also played an inhabitant of Pleasure Island in Geppetto in 2000 along with Michael Minden.
Christian had a bowl cut in all the Kidsongs videos that he appeared in while his hair was shorter in the The Kidsongs Television Show.
He replaces Teddy Lee in 1992.
He is now a sound post producer and a musician on the guitar.