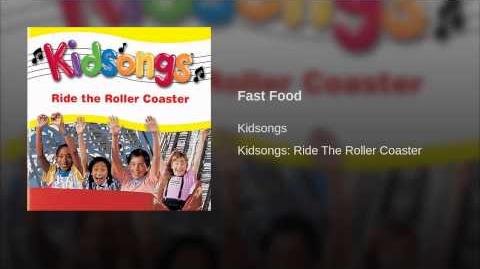 Fast Food is the song in the video Ride the Roller Coaster.
Lyrics
The Kidsongs Kids (David, Ryan, Tarrish, Nicole, Myisha, Tuhk, Triskin, Katinka, Dannon, and Nicholas) went to the candy kitchen and fast food restaurant order burgers 🍔 French fries 🍟 and milkshake and 🥤 and hot dogs 🌭
We're in the kitchen of the candy store,
The sweetest place I know.
The caramel apples, the chocolate fudge,
And peanut butter to go.

Refrain
Oh yeah, looks like heaven to me,
Ooh ee, it's where I want to be.
Hold on, I'm a victim of circumstance,
Fast food's got a hold of me,
And I don't stand a chance.

I love burgers and I love fries,
I want a milkshake on the side.
Cheese and ketchup everywhere,
There's nothing that we won't try.

Refrain

Hot dogs comin' from everywhere,
There'll be mustard on my face.
Give me onions and relish too,
This is my favorite place.

Refrain
Community content is available under
CC-BY-SA
unless otherwise noted.