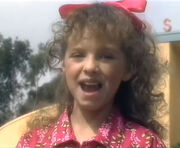 Heather Green is an American actress who started as a Kidsongs kid who first made a cameo appearance at the beginning and end of Kidsongs: I'd Like to Teach the World to Sing and then appeared in Kidsongs: Sing Out, America! (wearing a yellow shirt when she was with Uncle Sam and wearing an orange shirt where she danced with Bradley Fox in "Turkey in the Straw"), Kidsongs: A Day with the Animals (wearing a pink shirt in the video and wore a light pink dress when she played the title character in the song "Little Bo Peep"), Kidsongs: What I Want to Be! (where she was best seen going on a "Sea Cruise" dancing with Ann Gibbons, Christina Gibbons, Ingrid Dupree, Kristy Chan, Ryan Bollman Steven Brooks, Chris Finch and Devyn Puett, and last seen in Kidsongs: The Wonderful World of Sports.
Heather was also one of the kids who appeared in the Laurie Berkner songs "I Really Love to Dance" and "You're Gonna Like Me" in the Noggin (now Nick Jr.) music series, "Just Kids (Move to the Music)". Heather was replaced by Tarrish Potter in 1990.
Heather went to the unknown commercials in 2013-2015.