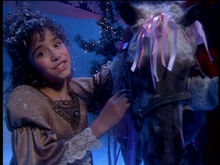 If I Had a Pony for Christmas is a Christmas song sung by Jennifer (played by Michelle Montoya) in We Wish You A Merry Christmas.
Lyrics
Chorus: If I get a pony for Christmas Oh how happy I'll be I'd love to find a pony for Christmas Under my Christmas tree Every night I dream about her She's the only one that I adore If I get a pony for Christmas I won't ask for anything more
I'll brush her till she shines and sparkles And her saddle will be the best I'll give her lots of pretty ribbons She'll be special Not like the rest!
Repeat Chorus
She'll show my all her fancy dances She'll tell her secrets just to me And though I know we're kinda tiny We'll grow up eventually!
Repeat Chorus
I won't ask for anything more