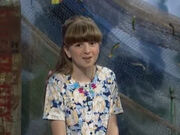 Janet Veyts (born November 21, 1983) is a Kidsongs cast whose best appearance can be only seen in season 2 of The Kidsongs Television Show as the Question Time Host. She was/is of Russian descent.
When she interviewed Pierre of Paris in "Billy's Tummy Ache", she taught him how to say "good morning" in Russian and in "Where in the World Is Billy Biggle?", she told Billy about the cities in Russia.
When she has spare time out of Kidsongs, she likes listening to flute music played by her favorite musician, Sir James Galway, or hang out with friends.