Julie Ann Gourson (born February 28, 1977 in Los Angeles, California) was a Kidsongs Kid from 1986-1988.
She possibly substituted/replaced Gina Marie Viniccia/April Hong and was substituted/replaced by Kristy Lynn Espinoza in 1986.
Gourson also made appearances on the live action intervals of the Golden Book era Schoolhouse Rock videos.
She was particularly seen in Kidsongs: The Wonderful World of Sports in the songs "Bend Me, Shape Me" and "Over the River".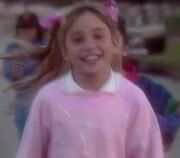 Appearances
Edit