Line 2:
Line 2:
 

'''Katie Polk''' (born as '''Katharine Rose Polk''' on June 9, 1983 in Los Angeles, California) was a [[Kidsongs]] kid from 1989 to 1995. Katie has black curly hair and tan skin. She is the great-great-great-great-granddaughter of James K. Polk, the 11th President of the United States.

 

'''Katie Polk''' (born as '''Katharine Rose Polk''' on June 9, 1983 in Los Angeles, California) was a [[Kidsongs]] kid from 1989 to 1995. Katie has black curly hair and tan skin. She is the great-great-great-great-granddaughter of James K. Polk, the 11th President of the United States.

 
 
−

In 1989, she replaces [[Tara Charendoff|Tara Strong]] (who was a cameo in [[Kidsongs: A Day at the Circus]]) and in 1995, she was replaced by [[Jessica Fried]]. In The Kidsongs Television Show, it was mentioned that Katie loves horses. She left the Kidsongs Television Show to become an assistant horse trainer and makes a guest appearance in "We Love Horses" which was the last episode of Season 3. She is now a designer for Houghton fashion.

+

In 1989, she replaces [[Tara Charendoff|Tara Strong]] (who was a cameo in [[Kidsongs: A Day at the Circus]]). In The Kidsongs Television Show, it was mentioned that Katie loves horses. She left the Kidsongs Television Show to become an assistant horse trainer and makes a guest appearance in "We Love Horses" which was the last episode of Season 3. She is now a designer for Houghton fashion.

 
 
 

==Appearances==

 

==Appearances==
---
Revision as of 03:00, 20 January 2018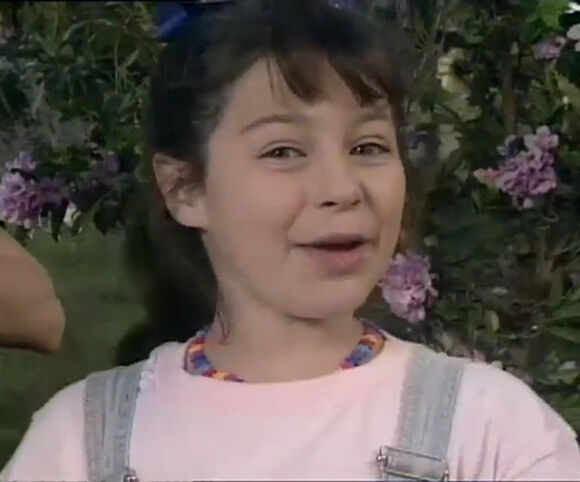 Katie Polk (born as Katharine Rose Polk on June 9, 1983 in Los Angeles, California) was a Kidsongs kid from 1989 to 1995. Katie has black curly hair and tan skin. She is the great-great-great-great-granddaughter of James K. Polk, the 11th President of the United States.
In 1989, she replaces Tara Strong (who was a cameo in Kidsongs: A Day at the Circus). In The Kidsongs Television Show, it was mentioned that Katie loves horses. She left the Kidsongs Television Show to become an assistant horse trainer and makes a guest appearance in "We Love Horses" which was the last episode of Season 3. She is now a designer for Houghton fashion.
Appearances
She shares a birthday with another Kidsongs kid, Divita Wright.
Community content is available under
CC-BY-SA
unless otherwise noted.