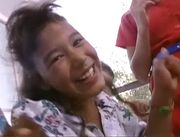 Katinka Chun (born November 28, 1979 in Alameda County, California) is a former child actress who was a Kidsongs kid that appeared in the following videos:
She replaced Tina Marie Espinoza in 1989 and was possibly replaced by Ariki Rice in late 1990.
Other Credits
Katinka appeared in the 1992 video, "Dance! Workout with Barbie."
Gallery