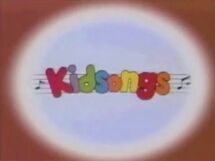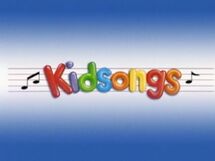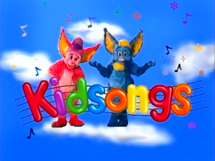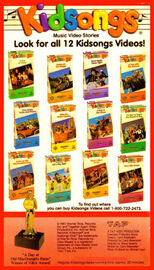 Kidsongs is an American children's media franchise that includes Kidsongs Music Video Stories on DVD and video, The Kidsongs TV Show, CDs of favorite children's songs, song books, sheet music, toys and an ecommerce website. There are nursery rhymes/covers of pop hits from the 1950s to the 1990s.
History
The Early Years
Kidsongs was produced in Summer 1985, released the first home video and LP, A Day at Old MacDonald's Farm in December 3, 1985 by View-Master Video and Warner Bros. Records (a part of Warner Reprise Videos (which was made in 1986).
The following year, five more Kidsongs videos and LPs were produced.
In 1987, two more videos were added and The Kidsongs Television Show was first aired on The Disney Channel. It ended in the following year, and in 1989, the home video and the music industry's very last LP, A Day at Camp marks the end of The Early Years. The following year after these ten videos, the next video starts with an audio cassette.
The Later Years
In the later year, five more videos and five cassettes from the videos from The Later Years were added, making it the complete original Kidsongs era and the 1987 version of The Kidsongs TV Show ran on The Disney Channel in 1992, and it is on hiatus until 1994 (on PBS).
The Biggle Magic
The Biggle Magic began with the first video and CD, Country Sing Along. In PBS, there was a new version of The Kidsongs Television Show that ran from 1994 until 1997. Reruns on PBS aired on 1998 and ended in 2001.
Present Years
Kidsongs had a lasting merchandise of books, CDs and a website in 2002. The Kidsongs series is part of a lasting legacy of children's music today.