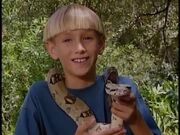 Kyle Dmitri Stanley (born April 5, 1983) was a Kidsongs cast as their lead singer seen in Kidsongs: If We Could Talk to the Animals (wearing an teal shirt and orange shorts), The Kidsongs Television Show (season 2 and 3), Kidsongs: Country Sing-Along (where he seen with Kari Floberg in "Swingin'" by John Anderson), and Kidsongs: Boppin' with the Biggles, in which he had a mop top hairstyle. He had a hairstyle that looked different: spiky hair in Kidsongs: Let's Put on a Show (where he sang bass in Johnny Cymbal's "Mr. Bass Man" and Doris Day's "By the Light of the Silvery Moon," wearing a blue, green and white striped shirt and white pants) and Kidsongs: Baby Animal Songs (wearing a gray and white squared shirt and white pants). He replaced Sean Gowers in 1993. Kyle is now a health doctor in his years. He is also known as the voice of Huckle Cat in the Richard Scarry Presents and Best Ever! early learning video series from Random House Home Video.
Community content is available under
CC-BY-SA
unless otherwise noted.