Lynsey Marie Bartilson (born July 1, 1983) is a Kidsongs cast who appears in Kidsongs: Let's Put on a Show and mostly was on The Kidsongs Television Show as the Question Time Host in season 2. Outside of the Kidsongs, she was known as the role of Lily Finnerty in the American television sitcom Grounded for Life.
She had her older brother is with Matthew Bartilson.
She had her parents is with Stanley Wayne Bartilson Jr. and Laurie Jo Bartilson.
She had her husband is with Cru Moore.
She had two sons is with Robert Camden Moore and William Mackenzie Moore.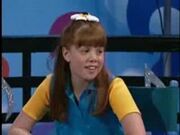 Community content is available under
CC-BY-SA
unless otherwise noted.