Line 2:
Line 2:
 

'''Matthew Benjamin Bartilson''' (born July 9, 1981) is a Kidsongs cast who appeared in [[Kidsongs: If We Could Talk to the Animals]], [[Kidsongs: Country Sing-Along]], and [[Kidsongs: Billy Biggle's Favorite Songs|Kidsongs: My Favorite Songs]][[Kidsongs: Let's Put on a Show|<nowiki/>]].

 

'''Matthew Benjamin Bartilson''' (born July 9, 1981) is a Kidsongs cast who appeared in [[Kidsongs: If We Could Talk to the Animals]], [[Kidsongs: Country Sing-Along]], and [[Kidsongs: Billy Biggle's Favorite Songs|Kidsongs: My Favorite Songs]][[Kidsongs: Let's Put on a Show|<nowiki/>]].

 
 
−

He wears glasses and had a red orange hair.

+

He glasses and had a red orange hair.

 
 
−

He was replaced by [[Landon Prairie]] in [[Kidsongs: Boppin' with the Biggles]].

+

He was replaced by [[Landon Prairie]] [[Kidsongs: Boppin' with the Biggles]].

 
 
 

He had his younger sister is with [[Lynsey Bartilson]].

 

He had his younger sister is with [[Lynsey Bartilson]].

Line 13:
Line 13:
 
 
 

He had two nephews is with Robert Camden Moore and William Mackenzie Moore.

 

He had two nephews is with Robert Camden Moore and William Mackenzie Moore.

 
+
 
+

He shares a birthday with former Kidsongs kid, [[Rebecca Lee Martinez]].

 

[[Category:Kidsongs Kids]]

 

[[Category:Kidsongs Kids]]

 

[[Category:Males]]

 

[[Category:Males]]
---
Revision as of 00:00, 27 May 2020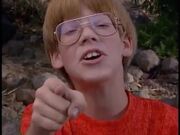 Matthew Benjamin Bartilson (born July 9, 1981) is a Kidsongs cast who appeared in Kidsongs: If We Could Talk to the Animals, Kidsongs: Country Sing-Along, and Kidsongs: My Favorite Songs.
He wore glasses and had a red orange hair.
He was replaced by Landon Prairie for the video, Kidsongs: Boppin' with the Biggles.
He had his younger sister is with Lynsey Bartilson.
He had his parents is with Stanley Wayne Bartilson Jr. and Laurie Jo Bartilson.
He had his brother-in-law is with Cru Moore.
He had two nephews is with Robert Camden Moore and William Mackenzie Moore.
He shares a birthday with former Kidsongs kid, Rebecca Lee Martinez.