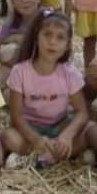 Raquel Nazzerena Alessi (born March 7, 1983 in Los Angeles, California) was a 1989-1990 Kidsongs kid, who was seen in Kidsongs: A Day at Camp and Kidsongs: Ride the Roller Coaster.
She was mentioned in "Little Bunny Foo Foo" and "Baa Baa Black Sheep" where she wore a pink camp shirt and has ribbons on her brown hair, "The Hokey Pokey" where she wore a yellow camp shirt and a denim cap.
She left in 1990 and plays Maria (age 6) in Lucky Chances.
She was now in movies, such as Miss March, as the main character.