Tags:

apiedit

,

Visual edit

Line 1:
Line 1:
 

[[File:Index.jpeg|thumb|left|400px|6 year old Raquel Alessi as a [[Kidsongs]] kid in the song "[[On Top of Spaghetti]]" in [[Kidsongs: A Day at Camp]] in 1989.]]

 

[[File:Index.jpeg|thumb|left|400px|6 year old Raquel Alessi as a [[Kidsongs]] kid in the song "[[On Top of Spaghetti]]" in [[Kidsongs: A Day at Camp]] in 1989.]]

−

'''Raquel Alessi''' (born '''Raquel Nazzerena Alessi''' on March 7, 1983 in Los Angeles, California) was a 1989-1990 [[Kidsongs]] kid, who replaced [[Alanna Mulhern]]. She was primarily seen in the song "[[On Top of Spaghetti]]" where she chased her meatball that ran away. She left in 1990 and was replaced by [[Ashley Nation]] in 1992.

+

'''Raquel Alessi''' (born '''Raquel Nazzerena Alessi''' on March 7, 1983 in Los Angeles, California) was a 1989-1990 [[Kidsongs]] kid, who replaced [[Alanna Mulhern]]. She was primarily seen in the song "[[On Top of Spaghetti]]" where she chased her meatball that ran away.

 
+
 
+

She left in 1990 and plays Maria (age 6) in Lucky Chances.

 
+
 
+

She was replaced by [[Ashley Nation]] in 1992.

 
+
 
+

She was now in movies, such as Miss March, as the main character.

 
 
 

==Gallery==

 

==Gallery==
---
Revision as of 15:33, 3 September 2016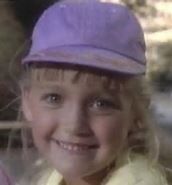 Raquel Alessi (born Raquel Nazzerena Alessi on March 7, 1983 in Los Angeles, California) was a 1989-1990 Kidsongs kid, who replaced Alanna Mulhern. She was primarily seen in the song "On Top of Spaghetti" where she chased her meatball that ran away.
She left in 1990 and plays Maria (age 6) in Lucky Chances.
She was replaced by Ashley Nation in 1992.
She was now in movies, such as Miss March, as the main character.
Gallery