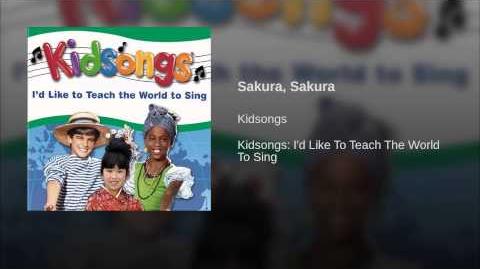 Sakura, Sakura (さくら さくら) is a traditional Japanese folk song sung in I'd Like to Teach the World to Sing. It was sung by Wendy Yumi and the Fujima Kansuma Dancers (Lisa Arakaki, Kennis Furuya, Allison Mikaru, Emiry Sato, and Stephanie Yamaoka).
Lyrics
Original Japanese

桜 桜
弥生の空は
見渡す 限り
霞か雲か
匂いぞ出ずる
いざや いざや
見に行かん


Rōmaji transliteration

Sakura Sakura
Yayoi no Sora wa
Miwatasu Kagiri
Kasumi ka Kumo ka
Nioi zo Izuru
Izaya Izaya
Mi ni Yukan


English translation

Cherry blossoms, cherry blossoms,
In the springtime sky,
As far as you can see.
Is it a mist or a cloud?
The scent rises out.
Come on now, come on now,
Let's go and take a look.