Sara Lynn Josephine Perks (born June 22, 1991) is a Kidsongs TV Show during the videos. She is noted as the youngest Kidsongs cast of all the people and his 4th and 6th Year Old. She is free spirited and youthful, but sometimes, she can't stay still whenever striking a pose. She appeared in these videos: Kidsongs: I Can Do It!, Kidsongs: Adventures in Biggleland: Billy's Birthday, Kidsongs: Adventures in Biggleland: Meet the Biggles and the reboots of for "The Kidsongs 2000" TV Reboots Series. She is the Stage Manager.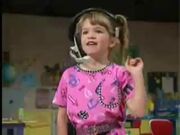 Community content is available under
CC-BY-SA
unless otherwise noted.