Kerry Sloan Fischer (November 26, 1956 - August 28, 1995) was an actor born in New York who appeared in Mistral's Daughter (1984), Tarzan in Manhattan (1989), and Rockula (1990). He is known in Kidsongs as Professor Majorchord, who appeared in the video Kidsongs: Very Silly Songs, Play Along Songs and is one of the main characters in The Kidsongs Television Show.
He passed away in August 28, 1995 from unknown causes at the age of 38.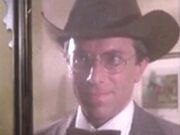 Community content is available under
CC-BY-SA
unless otherwise noted.